PVC is one of the most widely used plastics in the world. It is very versatile and can be recycled in many applications.
Whether you have scrap material (from your fabrication operation) or end-of-life products (after used in the field), we can take them back. Help us recycle - your support in this process is vital.
This way, your scraps will be recycled into strips and sheets or, depending on the quality, will be sent to the appropriate recycling circuits (cable manufacturing, shoe soles, etc.). Your returns won't end up in landfills. We're committed to recycling them all.
The value of your returns is invaluable to the environment.
How do we collect and recycle ?
It's simple. We send you empty crates in which to place your scraps.
When the crates are full, we take them back and the material is used to make new, recycled products.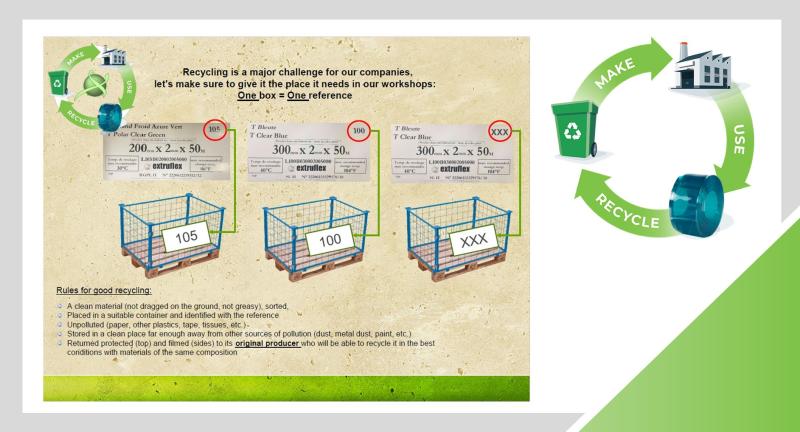 Download our full recycling guide
What about used products?
The recyclability of used products depends on their cleanliness and quality.
It is important that these materials are returned to us;
Sorted: We do not take back trash cans. Returns must consist of soft PVC from strips or sheets only. We do not accept other items made of rigid or flexible PVC, PE, PET, PP, ABS, etc... and even less cups, used paper and cigarette butts! Thank you in advance for your understanding 👍
Clean and free of foreign matter: Returns must be free of all metal parts (hangers, rivets, wires, etc.) as well as stones, adhesives, and wires of any kind.
Extruflex products: To protect our workers from potentially toxic additives and to provide you with a high-quality product, we can only take back products manufactured by Extruflex.
In case, despite our best efforts, your returns cannot be reused in our products, we guarantee to divert them to the appropriate recycling channels so they don't end up in a landfill. It's our commitment to you!
Strips are easy to disassemble. They are single-layer, which makes them easier to recycle. Let's work together to keep them out of landfills. It's everyone's responsibility.
What happens to your scrap material?
Scrap material may be recycled in our products or for other purposes, depending on their quality.
The cleanest products will be reused in our "recycled" product line.
Otherwise, the material will find a second life in electrical cables, pipes, insulation and sealing products, or making soles. Please contact us if you're interested.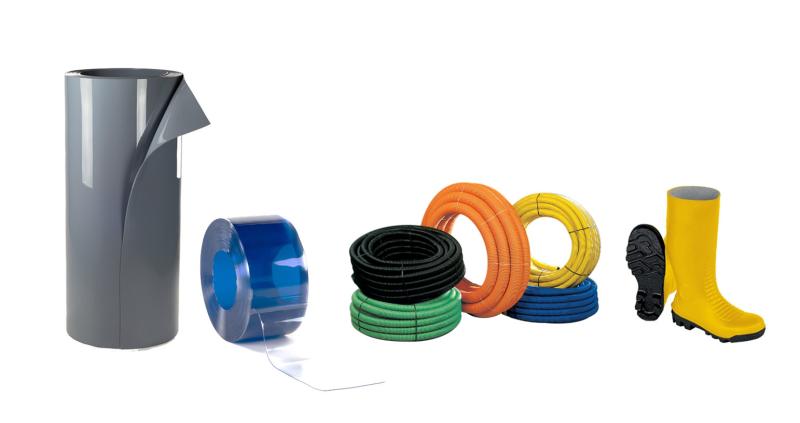 Learn more about PVC and recycling!
PVC is made from :
57% sea salt,
43% petroleum derivatives
Discovered in 1835 by Henri Victor Regnault, PVC is highly resistant to water, chemicals and fire. PVC is weather resistant, easy to clean and durable (30 to 50 years).
PVC is mainly used in the construction of windows and pipes, but is also used in the automotive and door industries, as well as in many everyday products (packaging, coated textiles, tarpaulins, etc.).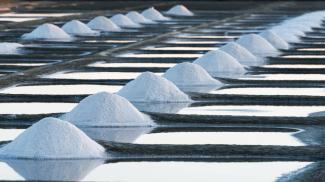 PVC recycling methods
There are two main methods of recycling PVC;
Mechanical Recycling. This means that the PVC is shredded and cleaned. The particles can then be re-melted and reused, with or without new material, in the manufacture of the same or other products.
Chemical Recycling. To convert waste into reusable components, various chemical processes such as pyrolysis or hydrolysis are used. The resulting products, such as sodium chloride, calcium chloride and hydrocarbon products, can be used to make PVC, raw materials or fuels.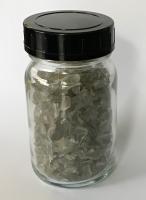 Recovering of PVC for further processing
PVC is a powder that is mixed with a plasticizer to make it flexible. The resulting blend is then extruded into the desired shape. Other additives are added to enable extrusion and give specific properties (anti-UV, coloring, fireproofing, etc.).
PVC is 100% recyclable. In the case of recycling, the carbon footprint is significantly lower than in the case of production from virgin material. Recycling saves energy and prevents further carbon extraction from the ground.
PVC is collected at waste collection centers. It can also be collected in containers provided by municipalities. Container can also be available on building's construction sites. It is also possible to take your PVC scraps or waste to recycling centers.
Extruflex can organize the return of your waste in addition to the current collection solutions.
EXTRUFLEX recycles all of its PVC waste. The wastes are shredded and sent to recycling companies for reprocessing into other application if it can't be reused directly on our products.
To reduce overall waste and carbon footprint, EXTRUFLEX offers customers the opportunity to recover scrap and used products.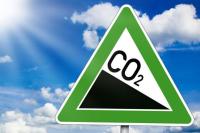 Our environment is precious. It needs everyone's attention every day.